Lots of Varnish - Judi's week has been mostly devoted to driving a brush full of varnish over finely sanded teak trim and hatches. The results are spectacular and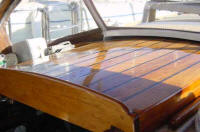 she makes the difficult process look almost easy. On a yearly basis each surface undergoes the following:
Rough sanding with 80-120 girt sandpaper to remove the weathered varnish.
If the surface is damaged (e.g. where a block banged on it in rough weather) it must be taken back to bare wood with a heat-gun or sandpaper.
Sand wood with 150 and then 240 grit to smooth wood.
1 coat with thinned varnish to seal the wood.
Sand with 320 grit paper to smooth varnish and wood that was raised by the sealing coat.
Wet or dry sand with 300-400 grit paper.
Coat with varnish.
Repeat 6 and 7 three to five times.
Sit back and enjoy the results!
Brightwork - The Art of Finishing Wood is Judi's Bible when it comes to varnishing - clear and precise information.

Small Boat Projects - Meanwhile other routine projects were in progress, including oil and filter changes, engine hose replacements, interior trim repair, porthole polishing, and other miscellaneous chores. Preparations for cruising including checking all standing rigging and running lights. The engine work turned a little unpleasant when the mechanic's bill arrived - some parts were billed at 8 times the prices for the same parts in the US ($250 vs. $33). It was eventually settled through negotiation but it reinforced the philosophy of getting a firm price ahead of time, you never know how honest the workman may be.
UK Trip Planned - Judi has a small medical issue to attend to, and with the low-cost airlines it has become only slightly more expensive to fly to the UK for the work rather than travel the 200 miles to Naples, so next week will be one of travel to London, Ringwood, and Salisbury for her. Bob will remain behind in charge of the polishing rag and computers.
#1 Son Denis Coming - Denis plans a visit to see Europe, and cruise with us to Spain. It promises to be interesting for him with planned stops in London, Amsterdam, Switzerland and Rome - plus a brief visit in Paris on his way back from Spain. In fact he will arrive in the UK as the same time as Judi's visit, so they will hit some of the highlights of London together next weekend.
English as a Universal Language - It is common for English-speaking travelers to assume that others will speak their language despite the lack of foreign-language skills in the US (how likely is a Finnish tourist to find signs in Finnish in New York?). English is frequently the common language for travelers; at a marina party this week we had 20 cruisers around a table from:
the Czech Republic
Norway
Poland
Germany
USA
Trinidad
Japan
Netherlands
and the predominant language was English - often enunciated more clearly than one would hear in many parts of the US. This should humble us and give us a motivation to help others learn the language rather than be arrogant about it.
Judi in England - Judi has returned to the UK for a small medical procedure. And, of course, while there she has been drafted to visit the local chandleries and bookstore to hunt for items that we cannot find in Italy. And the timing worked out so that she is in London when Denis arrives from the US - so this weekend will be devoted to sightseeing around London - a pleasurable pursuit!
Boat Life - While Judi gallivants around London Bob tends to small chores aboard; varnish, polishing, fixing hatches, and miscellaneous other items. It is a little lonely on board and Bob will be glad when Judi returns. After that our final preps for cruising and we will be off to Spain as soon as Denis arrives. Even this early in the season we feel like we are a little behind as the marina is starting to thin out as those who wintered over are leaving for Croatia, Greece, Northern Italy, and Turkey.
A Peek into Vibo Marina - Now that we have made this our 'base' for almost a year, perhaps it is time to provide a peek into this quiet village in southern Italy. It bustles in the morning and sleeps in the afternoon. We find a few people quite friendly but in the main the locals are taciturn or downright grim - not as friendly as we noted in Florence or Venice. Basic markets provide adequate supplies but not a lot of variety - and the nearest large store (a Carrefour) is 100 km to the north). Fruits and veggies are widely available and a few restaurants grace the main street, although cruisers tend to gravitate to Maria Rossa's, a friendly place with well-prepared food from a large menu.

One of many colorful fruit stands

Many houses are nice, but a few sit neglected near the village center
Stella del Sud and Carmelo marinas in the Vibo harbor

A modern crucifix brings out the religious nature of Vibo locals
Summer on the way - The weather has changed in the last week or so, temperatures cause perspiration for very little effort and the down duvet has been put away. Cruisers are starting to go on a daily swim and rain is rare - this all means summer is truly on the way.

Denis on his European OE - Judi caught up with Denis in London as he started his European OE (Overseas Experience). His 3 days in London entailed learning the Underground, walking for miles, an Original London Bus Tour of the city, an Sunday Ancient London walk, a few museums, and snapping shots at the must-see sights around our favorite big city in Europe. He is currently working his way through Holland, Switzerland, and Italy with a rendezvous with Long Passages next week.
Denis Crosses Europe - For Denis this was his first full week of traveling in Europe with stops in Amsterdam, St. Moritz, Zermatt, Venice, and Rome - a good cross-section of cultures and scenery. His favorites were the stops in Switzerland with its snowcapped mountains, clean streets, and quaint villages. On 25 May he arrived in southern Italy, a seasoned and confident traveler having crossed 6 countries to get here.
Judi Returns from England - RyanAir came through again and Judi arrived back from a short medical visit to our home-away-from-home in Ringwood, England. All news was good and no further visits are in the near future.